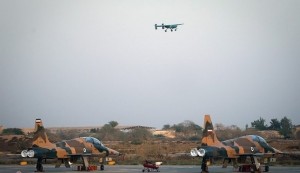 TEHRAN (Tasnim) Ė Iranís Khatam al-Anbia Air Defense Base fully safeguards the countryís air space, a senior air defense commander said.



Lieutenant Commander of Khatam al-Anbia Air Defense Base General Ali Reza Sabahi-Fard on Monday said the base protects Iranís airspace with full preparedness.

The commander also highlighted the scientific progress made in the country, including in the defense field, and regarded it as one of the factors contributing to Iranís current strength.

In recent years, Iran has made great achievements in its defense sector and has attained self-sufficiency in producing essential military equipment and systems. As part of these accomplishments, Iranís aerial defense has been able to build a big part of its equipment and arsenal by its own experts.

Last month, Commander of Khatam al-Anbiya Air Defense Base Brigadier General Farzad Esmaili announced that experts at the base have upgraded and improved the capabilities of the countryís Hawk missile systems.

He said young and talented technicians at the air defense base have upgraded and optimized different specifications of the Hawk missile system.

Esmaili added that the effective range of the mid-altitude radars of the missile system has been doubled, adding that the new optimized radars have the capabilities of the modern radar systems.

The commander further said that the range of the low-altitude radars has also been doubled compared to its previous version.

By Tasnim News Agency



The Iran Project is not responsible for the content of quoted articles.