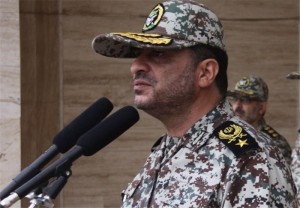 TEHRAN (Tasnim) Ė Massive wargames conducted by the Iranian Air Defense units during the last Iranian year (March 2013- March 2014) have forced enemies to change behavior, a senior air defense commander announced.



Addressing air defense units here in Tehran today, Lieutenant Commander of Khatam al-Anbia Air Defense Base General Ali Reza Sabahi-Fard said massive air denfese drills, code-named Defenders of Velayat Skies 5 and Mesbah Al-Hoda, were among major achievements of the air defense force during the last Iranian year.

As regards the significance of the drills, the commander said, "After conducting the massive (air defense) drills, we witnessed change in the enemyís behavior in the region."

In October, Khatam al-Anbia Air Defense Base, together with different units from the Iranian armed forces, conducted massive Defenders of Velayat Skies 5 drills.

Those exercises were held in the northwestern, central, eastern, and southwestern parts of the country in which 12,000 forces of both the Army and the Islamic Revolution Guards Corps had taken part.

Following the wargames,Sabahi-Fard stated that all the targets, determined before the exercises, had been fully attained during the massive drills.

By Tasnim News Agency



The Iran Project is not responsible for the content of quoted articles.