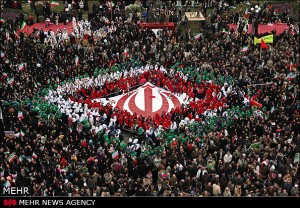 Madrid, Feb 11, IRNA Ė Celebration marking the 35th anniversary of Islamic Revolution of Iranís victory here Tuesday was attended by eye-catching presence of Spanish officials, as well as ambassadors of foreign countries in Madrid, cultural and political personalities.
According to the IRNA correspondent in Spain, the presence of prominent guests this year in Madrid celebration of the Islamic Revolutionís victory anniversary was more spectacular compared with the previous years, when despite the heavy rain in Madrid, ambassadors and other embassy staffs of various countries attended the ceremony.

There were also a number of representatives of Sapainís ruling peopleís party, some high ranking diplomats of the Spanish Foreign Ministry, including the managing director of its Middle East and Protocols Affairs Office, representatives of Spanish universities and scientific centers, police officers, and top Spanish economic bodiesí members.

There were also representatives of a number of non-governmental organizations (NGOs) and high ranking representatives from the European, Asian, Arabic, and Latin American countries among the prominent guests in the anniversary of the Islamic Revolution of Iran in Madrid.

This yearís ceremony had obviously provided an opportunity for a gathering of politicians and friends of the Islamic Revolution and Iran to gather in a friendly atmosphere, talk and exchange viewpoints on various issues of mutual interest amid the beautiful sound of the Iranian music.

Islamic Republic of Iranís Ambassador to Madrid Morteza Saffari was the host in the ceremony.

The participants also had the chance to visit a side exhibition of the Iranian handicrafts and get more acquainted with the rich Iranian arts and culture. Four Iranian artists had put on display their artistic works in the exhibition in inlaid works, embossed works and calligraphy categories.

Hannaneh musical troupe, conducted by Kamran Hemmatpour, too, with their Iranian musical instruments and the pieces they played added to the glory and Persian atmosphere of the prestigious ceremony.

There were large posters depicting Iranian cultural, historical and natural attractions, decorating the area of the celebration.

That is while masses of people from all walks of life kicked off nationwide rallies on Tuesday to mark the 35th victory anniversary of Islamic revolution in Iran.

The Iranian nation irrespective of their ethnical affiliations came to the scene once again this year to renew their allegiance with the aspirations of the Islamic Revolution and its late founder, Imam Khomeini (P), on the 35th anniversary of its victory.

The Iraniansí presence this year was much more remarkable in terms of number and attendance compared to that in the previous years.

Hundreds of domestic and foreign reporters covered the huge nationwide presence of the Iranians in support of their Islamic revolution.

By IRNA



The Iran Project is not responsible for the content of quoted articles.