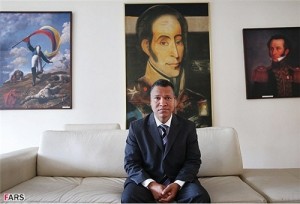 Isfahan, Jan 12, IRNA - Venezuelan Ambassador to Tehran Amenhotep Zambrano said Saturday evening that Caracas and Tehran are determined to boost diplomatic relations.
Zambrano made the remarks while talking to IRNA at the Latin America photography exhibition in this central Iranian city.

As a high-ranking Iranian delegation is planned to visit Venezuela, the two will review ways to strengthen bilateral relations, said he.

Referring to the Islamic Republic of Iran as a powerful country, he stressed the G5+1 should recognize Iran?s right to pursue peaceful nuclear technology.

Both Iran and Venezuela are against oppression and will not bow down to any pressure, the diplomat noted.

By IRNA



The Iran Project is not responsible for the content of quoted articles.