By Xinhua

TEHRAN, Sept. 11 (Xinhua) -- China and Iran have agreed to further increase their trade exchanges, pledging to properly address the existing problems and achieve win-win outcomes.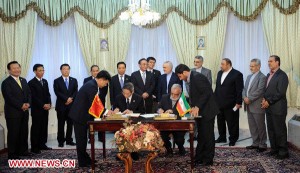 China's top legislator Wu Bangguo, who is on his official goodwill visit to Tehran, met with Iranian First Vice President Mohammad Reza Rahimi on Monday and discussed the issue on how to improve trade ties between the two countries.

China and Iran have made fruitful cooperation on areas like trade, energy, infrastructure and project contracting in recent years, which has brought about tangible benefits to the two sides, said Wu, chairman of the Standing Committee of China's National People's Congress (NPC).

The two sides should continue to deepen bilateral trade cooperation in the spirit of mutual respect and mutual benefit, and push forward trade ties in a stable and healthy manner, Wu said.

On future trade development, Wu suggested the two sides enhance coordination, overcome unfavourable factors and properly deal with problems to create favourable conditions for cooperation between enterprises of the two countries.

Wu also encouraged the two countries to expand cooperation on rail transportation and water and power project construction and earnestly implement the signed contract project.

The two sides should also implement the agreement on avoidance of double taxation, provide convenience on visa and customs clearance and protect the legitimate rights of the cooperative enterprises, said Wu.

Rahimi, for his part, expressed the hope to development friendly cooperation between Iran and China under current circumstances, saying Iran is willing to enhance coordination with China and create favourable conditions to quicken the step of energy cooperation and expand cooperation on other fields like trade, agriculture and infrastructure.

Wu also expressed his condolences to the Iranian people over the powerful earthquakes, which hit Iran's northwestern region in August, leaving at least 306 dead and over 3,000 injured.

Rahimi extended his thanks for China's sincere help, and conveyed his condolences to the victims over earthquake hitting the Yiliang County in southwest China's Yunnan Province.



The Iran Project is not responsible for the content of quoted articles.