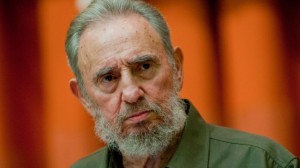 Former Cuban President Fidel Castro has hailed Russia's 'intelligent' proposal to put Syria's chemical arms under international control.
Castro, 87, said in an article published in Cuban press on Saturday, "The intelligent Russian initiative" meant "the risk that the conflict explodes with its lamentable consequences seems to have diminished."
The 87-year-old leader further praised Russia as a "brave country" that "stayed firm before the unusual pretension of the government of the United States, threatening to launch an overwhelming attack against the Syrian defenses."
On September 9, Syria welcomed a proposal made by Russia to put its chemical weapons stockpile under international supervision. On September 11, Moscow announced that it had given the plan to Washington.

US Secretary of State John Kerry and Russian Foreign Minister Sergey Lavrov held three days of talks in Geneva to discuss the Russian proposal. The pair announced an agreement on Saturday that would eliminate Syria's chemical weapons by mid-2014.

Kerry urged the Syrian government to present a comprehensive list of its chemical arms within a week. He also said Damascus should allow UN inspectors to have immediate access to its chemical sites.

French Foreign Minister Laurent Fabius welcomed the deal as a breakthrough, saying the plan is a significant step forward.

British Foreign Secretary William Hague also welcomed the deal as "a step forward."

The war rhetoric against Syria first gained momentum on August 21, when the militants operating inside the country and the foreign-backed Syrian opposition claimed that over a thousand people had been killed in a government chemical attack on militant strongholds on the outskirts of Damascus.

The Syrian government categorically rejected the allegation, saying the militants carried out the attack to draw in military intervention.

By Press TV



The Iran Project is not responsible for the content of quoted articles.