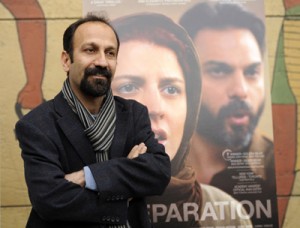 The 2013 Cairo International Film festival has canceled the screening program of Oscar winning Iranian director Asghar Farhadiís latest drama.
The decision was taken when the former head of the festival Amir Al Omari resigned from his position at the festival, ISNA has reported.

The French-language film†The Past (Le Passť)†had been earlier selected to be screened at the opening gala of the 36th Cairo International Film Festival.

Farhadi's Cannes competition entry was slated to be showcased in the non-competition section of the Egyptian festival.

The movie garnered two prizes at the 66th Cannes film festival including the Best Actress award that went to Argentine-French actress Berenice Bejo, and the Prize of the Ecumenical Jury (prix du Jury acumťnique).

The smash-hit drama has received warm critical acclaim by both French movie goers during its public screening in the countryís movie theaters and those ones who followed the film in its premier at Cannes film festival.

The former president of Cairo International Film Festival Amir Al Omari had earlier invited Iranian cineastes to take part in the yearís event.

Several Iranian filmmakers also missed the last yearís festival over Egyptís refusal to issue visas to them.

Al Omari also expressed his concern over the possible closure of the festival because of the current political crisis in Egypt.

Egypt has been the scene of increasing violence since the overthrow of ousted President Mohamed Morsi by the army in early June.

The head of the Egyptian armed forces, General Abdel-Fattah al-Sisi, pushed aside Morsi on July 3. He also suspended the constitution and dissolved the parliament.

Dozens of protesters have been killed or wounded during the violence that broke out after the overthrow.

This yearís film festival is scheduled to take place from November 19 to 26, 2013.

By Press TV



The Iran Project is not responsible for the content of quoted articles.