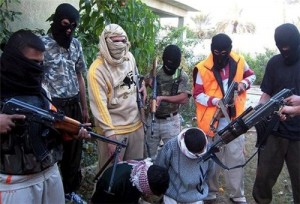 TEHRAN (FNA)- Iraqi security forces have arrested the notorious leader of the Al-Qaeda and his number two and three men in Iraq' restive city of Tikrit, the interior ministry announced on Saturday.


"Today, a joint task force of the country's army and police arrested the leader of the Al-Qaeda and his two deputies in Tikrit," the Iraqi interior ministry said in a statement.

Tikrit, the hometown of Iraq's executed dictator Saddam Hussein, is a bastion of Saudi and Qatari-backed terrorists in the restive province of Salahuddin in Northern Iraq.

"These terrorists were captured in massive security operations and transferred them to the closest security center for interrogation," the interior ministry statement added.

Iraq has seen a surge in violence since the beginning of the year.

The Islamic State of Iraq and the Levant, an Al-Qaeda front group, claimed responsibility for the deadly string of attacks that shattered Iraq on Eid al-Fitr (celebration marking the end of the holy month of Ramadan), killing about 80 people and leaving over 200 wounded.

"The Islamic State mobilized...in Baghdad and the Southern states and others to convey a quick message of deterrence on the third day of Eid al-Fitr," a statement posted on jihadist forums said.

Earlier this month, Iraqi forces killed six suspected Al-Qaeda militants during a search operation in Sulaiman Bek, North of Baghdad, as two soldiers and five civilians also died in attacks, officials said.

Security forces have launched operations targeting militants in various areas in recent days, including the Baghdad region.

By Fars News Agency



The Iran Project is not responsible for the content of quoted articles.