By Business Recorder

TEHRAN: Big anti-Israel rallies took place in cities across Iran on Friday for the country's annual Quds Day, which supports the Palestinian cause and an end to the Jewish state.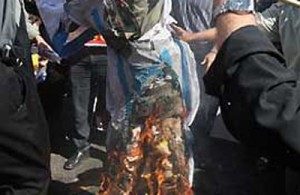 State television showed crowds marching under blazing sunshine and holding Palestinian flags and banners reading "Death to Israel".

The demonstration, a regular event established after Iran's 1979 Islamic revolution, this year took place amid heightened tensions between Israel and Iran over Tehran's disputed nuclear programme.

The Jewish state has in recent weeks intensified its threats to possibly bomb Iran's nuclear facilities to prevent it having the capability to produce atomic weapons.

Iran, which is suffering under severe Western sanctions, denies its nuclear programme is anything but peaceful. Its military has warned it will destroy Israel if it attacks.

Iran's supreme leader, Ayatollah Ali Khamenei, on Wednesday described Israel as a "bogus and fake Zionist outgrowth" in the Middle East that "will disappear."

He also called Iran's support of the Palestinians "a religious duty."

A top aide to Khamenei, foreign policy advisor Ali Akbar Velayati, was to address the Quds Day demonstrators on Friday, followed by President Mahmoud Ahmadinejad.

Iran uses the word Quds, derived from Arabic, to designate the city of Jerusalem.



The Iran Project is not responsible for the content of quoted articles.