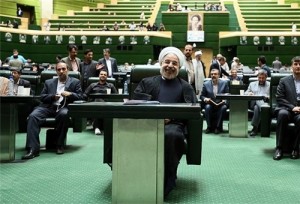 TEHRAN (FNA)- President Hassan Rouhani went to the Parliament Thursday morning on the fourth day of debates on the qualification of his proposed ministers.


The Iranian parliament presided by Speaker Ali Larijani started the fourth day of debate on competency of the proposed ministers of President Rouhani on Thursday.

The Iranian MPs are due to qualify Mohammadreza Nematzadeh for the Ministry of Industry, Mines and Trade in the Thursday morning session.

President Rouhani and his nominees for different cabinet posts attended the parliament on Monday, Tuesday and Wednesday for a vote of confidence to his 18 proposed ministers.

The debate at the parliament will continue until Thursday afternoon.

Rouhani presented the list of his candidates for the posts to the parliament on August 4, on the same day that he was sworn in as Iran's president.

The Iranian president reiterated in his press conference that he would defend his ministers decisively.

He had said that the country needs experienced individuals for the cabinet and those who will enter the area should have possessed sufficient expertise and experience and have presented a satisfactory record in the past.

By Fars News Agency



The Iran Project is not responsible for the content of quoted articles.