Iran is ready to host a meeting between the Syrian government and opposition groups aimed at solving the country's crisis, Iranian Foreign Minister Ali Akbar Salehi announced on Sunday.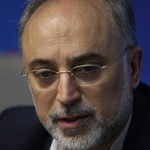 "The Islamic Republic of Iran is ready to sit down with the Syrian opposition and invite them to Iran," the ISNA quoted Salehi as saying. "We are ready to facilitate and provide the conditions for talks between the opposition and the government."

Repeatedly accusing Western and regional powers of meddling in Syria's internal affairs, he emphasized that "the Syrian issue should have a Syrian solution."

Referring to Annan's recent visit to Tehran, Salehi said that the sensitive conditions of the Syria's crisis are of great importance for the whole region and the world; if the right decision isn't made for resolving the crisis, it will include the whole region and can have adverse effects for the world, Tabnak reported.

Last week International mediator Kofi Annan was in Tehran in a visit which signaled Iran's key role in resolving the Syrian crisis.

Stressing Iran's key role in resolving the Syrian crisis, Annan said he comes to Iran "to see how we can work together to help settle the situation in Syria".

Despite Annan's emphasis on the importance of Iran's involvement in finding a solution to the Syrian crisis, At the insistence of the US, Iran was left off the guest list of Annan's multinational "action group" meeting on Syria in Geneva late last month.