By Associated Press

The vice president of an Iranian-Canadian advocacy group said Thursday that a Canadian bank has been closing a number of accounts belonging to members of the community with little or no explanation.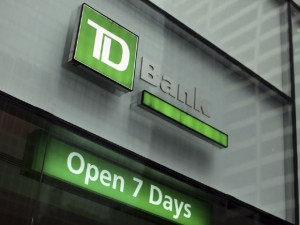 Kaveh Shahrooz said TD Bank notified some account holders that the closures were in response to Canadian sanctions against Iran, but others received no explanation. He said the closures have been taking place for the past few months.

"Some clients received a letter informing them that TD Bank would no longer provide them with banking services and the letter made a general reference to the Special Economic Measures Act, which is Canada's sanction law, but it did not indicate how that particular individual had violated the sanctions," he told The Associated Press.

Pooya Sadeghi, who moved to Toronto from Iran 14 years ago, said the TD account he shared with his wife and her parents was closed two days before he received a letter from the bank on May 2.

"They went to the grocery store to do some shopping, it didn't work and the next day we received the letter," he said. "There was no explanation in our letter about why TD was closing the account," he said.

Shahrooz said TD has offered to meet with representatives of the group on July 22 to discuss the closures. TD was not immediately available for comment.

TD bank has not publicly revealed how many accounts belonging to Iranian Canadians have been closed, but Shahrooz said they have received complaints from British Columbia to the Maritimes, indicating that this is a nationwide issue. He said he held a meeting on July 7 in Toronto, and 60-70 people attended, many of whom told him they had their accounts closed.

The Canadian government imposed a series of sanctions against Iran in 2010 to pressure the Islamic republic to suspend nuclear enrichment activities and cooperate with the International Atomic Energy Agency. Canada expanded sanctions in January, forbidding Canadian financial institutions from providing financial services to anyone in Iran or for the benefit of Iran.

Canada's foreign affairs department did not immediately return calls for comment, but Rachel Swiednicki, a spokeswoman for the Canadian Bankers Association, confirmed that a number of international sanctions prohibiting some financial and business activities with Iranian individuals, banks, companies and government institutions were strengthened in January.

"Each bank develops its own policies and procedures and takes the steps that it feels necessary to ensure that the bank is in compliance with these regulations," she said in an email.

The CBA has no information on what banks are doing to comply with the regulations, she said.

A Bank of Montreal spokesman said the bank has closed or frozen accounts "but only in a very few instances where required."

"BMO carefully assesses the regulations, as well as the sanctions that the office of the superintendent of financial institutions publishes on this topic to ensure that our dealings with Iranian Canadians are compliant," said Ralph Marranca.

Pooya Sadeghi said that he stays in contact with family members in Iran but has had no financial transactions with them.

He said it took TD representatives one month to reply to his request for an explanation for the account closure. The reply he received said they could not provide an explanation.

"I've been a Canadian citizen for 10 years and this is the first time I'm feeling that I've been treated differently than a Canadian citizen," says Sadeghi.

Sadeghi has since opened a new bank account with CIBC. He has also created a Facebook group called "Condemn TD Bank in their Treatment of clients with Iranian Background" and said he has received a lot of support.

On the Facebook group, there are a number of posts from people who say they are considering canceling their TD bank accounts in protest.

"No Canadians should be subject to this. A discrimination and charter challenge should be in place," said one post.

The Iran Project is not responsible for the content of quoted articles.