AFP reported, the United States Wednesday backed the United Arab Emirates in its dispute with Iran over three Gulf islands, as President Barack Obama met Crown Prince Mohammed bin Zayed Al-Nahyan.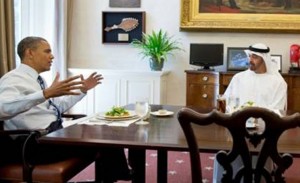 The two leaders met for lunch at the White House and issued a joint call for a peaceful resolution of the status of the islands of Abu Musa, Greater Tunb and Lesser Tunb.

A joint US and UAE statement issued after the meeting, which was closed to the press, said Obama and the prince "called for a peaceful resolution of the islands' status."

The United States "strongly supports the UAE's initiative to resolve the issue through direct negotiations, the International Court of Justice, or another appropriate international forum," the statement said.

The UAE claims the islands under the terms of a 1971 agreement signed when Britain ended its colonial-era reign over that part of the Gulf.

Iran rejects any UAE claim to the islands, saying they have always been part of its territory.

On the other side, Ali Saeedi, representative of the Iranian Supreme Leader to the IRGC told FNA on Saturday, US President Barack Obama has thrown his weight behind the UAE territorial claims against Iran in a move to garner Zionists' support for his presidential campaign.

He added that Zionist lobbies are powerful in the US and Europe and politicians find themselves in need of their support. "Thus, we witness such stances by the US leaders at this stage of the elections."

Saeedi further noted that Obama's remarks were a warning to those who advocate talks with the US and reemphasize the necessity for resistance against the United States.