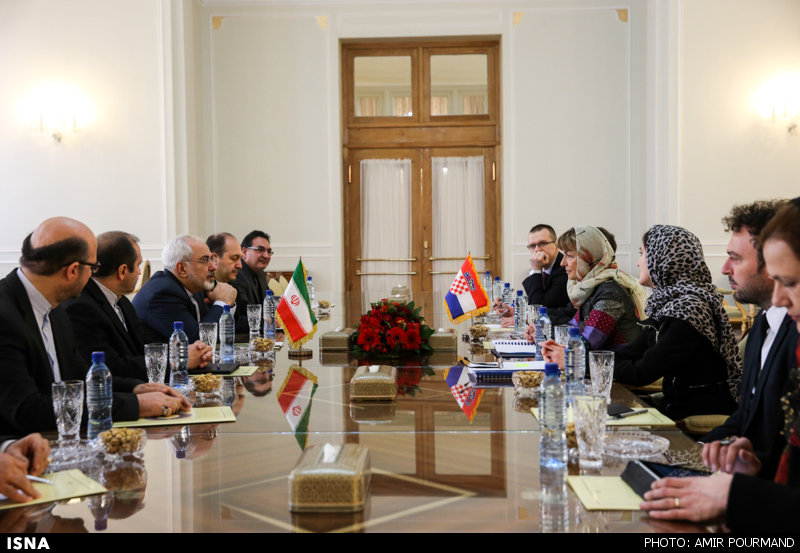 TEHRAN (Tasnim) Ė Croatiaís foreign minister said the European Union has a quite clear understanding of Iranís right to enjoy nuclear technology for peaceful purposes.
Speaking at a joint press conference with her Iranian counterpart in Tehran on Sunday, Croatian Foreign Minister Vesna Pusic said the world needs to make sure that Iranís nuclear activities are for peaceful purposes alone.



Once the requirements considering Iranís nuclear program are fulfilled and implemented, Tehran and world powers will need to gain a transparent understanding of a timetable for removal of the sanctions imposed on Iran, Pusic added.

She also noted that her meeting with Iranís Foreign Minister Mohammad Javad Zarif included talks about bilateral ties, Iranís relations with the EU and the nuclear talks between Tehran and the Group 5+1 (Russia, China, the US, Britain, France and Germany).

Iran and the six world powers are in talks to hammer out a final agreement to end more than a decade of impasse over Tehranís nuclear energy program.

Zarif, for his part, hailed Tehranís age-old ties with Zagreb, deploring a relative decline in relations in recent years in the wake of ďcruel sanctionsĒ the West has slapped on Iran.

The Iranian diplomat also cautioned against the menace of extremism, which he said threatens both the Middle East region and the European countries.

Zarif further warned that ignoring the Muslim sanctities could fan the flames of ďhatred and violenceĒ, and praised Croatia as a European state whose Muslim minority has good relations with other ethnicities.

With such peaceful coexistence among its people, Croatia can ďplay a major role in bringing the views closer in the region and the world,Ē he noted.

After Croatia declared independence in June 1991, Iran became the 7th country to recognize the newly independent Southeastern Europe nation. Since April 1992, the two countries have had diplomatic relations.

By Tasnim News Agency



The Iran Project is not responsible for the content of quoted articles.