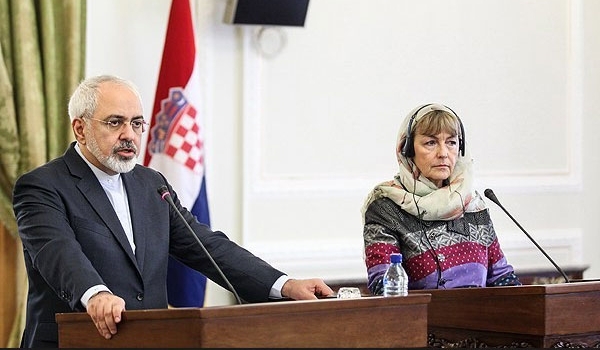 TEHRAN (FNA)- Iranian Foreign Minister Mohammad Javad Zarif warned the western states to avoid exerting further pressure on Tehran, saying that intensifying sanctions will backfire.


"The negotiations should yield results but the western and US politicians should know that sanctions have yielded nothing, but damage to the West and continued pressures on Iran will be useless," Zarif said in a joint press conference with his Croatian counterpart Vesna Pusic in Tehran on Sunday.

Asked if there will be a ministerial meeting between Iran and Group 5+1 (the US, Russia, China, Britain and France plus Germany) in Zurich, he said, "No decision has yet been taken in this regard."

The 10th round of negotiations between Iran and the six world powers was held in Vienna from November 18 to 24, where the seven nations decided to extend the talks until July after they failed to strike an agreement. The latest round of the nuclear talks between the two sides was held at the level of deputy foreign ministers in Geneva, Switzerland, on January 18. The two sides decided to continue their talk early in February. Both Iran and the G5+1 negotiators have underlined that cutting a final deal before the July 10 deadline is possible.

Elsewhere, Zarif referred to Pusic's visit to Iran, and said, "Today, we are happy that a friendly country which is a member of the European Union has been added to our friends."

Pointing to the two countries' relations and cooperation in different political, tourism, sports and economic fields, he said, "Today, we discussed the nuclear issue and the danger of extremism which is threatening both our region and Europe and we stressed the necessity for paying serious attention to the issue of extremism."

Iran and Croatia established diplomatic relations on April 18, 1992 when Iran became the 7th country to recognize the newly-independent Croatia. Croatia has an embassy in Tehran and Iran maintains an embassy and a cultural Center in Zagreb.

Croatian President Ivo Josipovic had earlier stressed his country's will for expanding ties with Iran in all the political, economic and cultural fields.

By Fars News Agency



The Iran Project is not responsible for the content of quoted articles.