[caption id="attachment_110581" align="alignright" width="277"]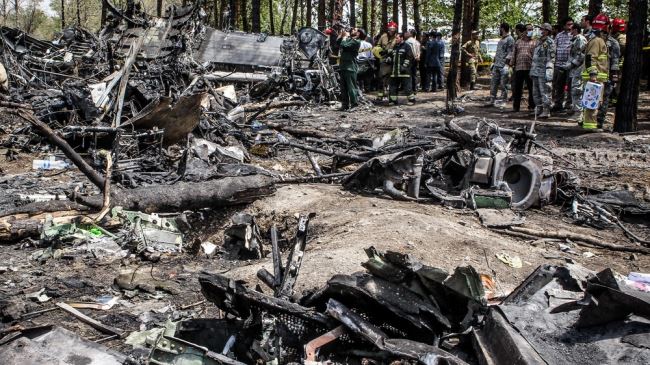 An Iranian passenger plane crashes on August 10, 2014 moments after takeoff from the International Mehrabad Airport.[/caption]
The two black boxes of an Iranian passenger plane that crashed in the†country's†capital, Tehran, have been found, an official says.
ďBoth black boxes of Iran-140 airplane of Hesa Co. [Iran Aircraft Manufacturing Industrial Company] were found in search operations,Ē Deputy Minister of Roads and Urban Development Ahmad Majidi told ISNA on Sunday.

He added that investigation committees would examine the black boxes to determine the main cause of the incident.

Meanwhile, the General Inspectorate Organization of Iran has commissioned a special committee to follow up on the†crash.

The Iranian passenger plane crashed on Sunday moments after takeoff from the International Mehrabad Airport.

Thirty-seven people lost their lives on the spot while two others were died in a Tehran hospital. Nine others have suffered serious burns with†several in critical condition.

The Antonov An-140, a turboprop regional airliner operated by Sepahan Air, was traveling from Tehran to the northeastern desert city of Tabas. Forty-eight people, among them several children, were on board the plane when it smashed into the ground and burst into flames upon impact.

Witnesses say that the plane went down only meters away from a densely populated area.

Iranís President Hassan Rouhani and Majlis Speaker Ali Larijani on Sunday expressed their profound condolences over the tragic plane crash.

The Iranian president also urged Minister of Roads and Urban Development Abbas Ahmad Akhoundi to prepare a thorough report on the incident.

By Press TV



The Iran Project is not responsible for the content of quoted articles.