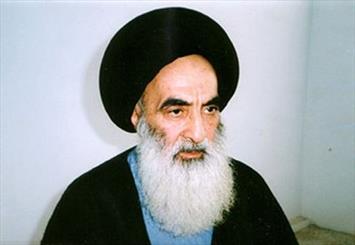 TEHRAN (FNA)- The Iraq-based Muslim religious leader, Grand Ayatollah Ali al-Sistani, called for faster steps by the Iraqi officials to form a new government within the framework of the constitution.
In a statement read by his representative in the Southern city of Karbala Seyed Ahmad Safi on Friday, Ayatollah Sistani asked the political streams to increase efforts to save Iraq from the current crisis as soon as possible, al-Iraqiya TV channel reported on Saturday.

The Iraqi religious leader also voiced regret over the parliament's failure in electing a speaker and his deputies.

Also in a statement in June, Ayatollah Sistani asserted his support for the Iraqi army and called on its soldiers to be patient and steadfast in the face of the Islamic State of Iraq and the Levant (ISIL) terrorists.

He expressed deep concern about the latest developments in Nineveh province and called on the government to take the necessary measures to encounter the terrorists and to protect the civilians.

Iraq's Prime Minister Nuri al-Maliki said on Wednesday that he hoped to overcome the challenges blocking the formation of a new government, a day after the new parliament's first session ended without agreement on top government posts.

"A state of weakness occurred but God willing in the next session (planned for next Tuesday) we will overcome it with cooperation and agreement," said Maliki in his weekly televised address on Wednesday.

He also offered an amnesty to rebels involved in fight against the government except for those who had "killed and shed blood."

"I announce the offer of the amnesty pardon for all tribes and for all people who were involved in acting against state to return to their sanity, and they are welcome. We will not exclude anyone except those who killed and shed blood," Maliki said.

By Fars News Agency



The Iran Project is not responsible for the content of quoted articles.