By Press TV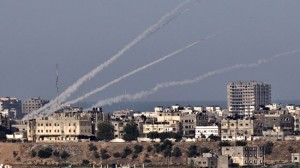 A new report by the US Center for Military Studies confirms that the range of Iranís Fajr-5 (dawn-5) artillery rockets is five times longer than that of the Qassam rockets of the Palestinian Islamic Jihad Movement.

The report shows that Fajr-5, designed by Iran's Aerospace Industries Organization, has a range of up to 75 kilometers, weighs 915 kilograms and has a 90-kilogram warhead.

This is while, the Qassam rocket developed and deployed by the armed wing of Hamas, the Al-Qassam Brigades, has a range of 15 kilometers. The steel artillery rocket can carry warheads with a maximum weight of 10 kilograms, the report said.

Palestinian Islamic Jihad Movement has employed Iranís Fajr-5 (Dawn-5) artillery rockets to strike targets in the deeper areas of the occupied territories.

According to the Islamic Jihad Movement, the armed wing of the group, al-Quds Brigades, fired an Iranian-made Fajr-5 rocket at Tel Aviv on Thursday, causing a large explosion to shake the city.
The site of the explosion, Tel Aviv-Jaffa (60 kilometers north of the Gaza Strip), was the farthest that a Gaza rocket had ever hit inside Israel.

In a separate statement, Jihad Movement pledged that Israel would experience ďfurther surprises so long as the aggression against the Palestinian people continues.Ē

On Saturday morning, Palestinian resistance fighters fired another missile toward Tel Aviv.

Israeli TV says more than dozens of missiles have hit Ashkelon - 50 km (31 miles) south of Tel Aviv - Eshkol regional council in northwestern Negev in Israel's Southern District, Be'er Tuvia in central Israel and the southern city of Ofakim.

Israel has called up about 75,000 army reservists amid reports of a possible ground incursion into the coastal enclave.

At least 41 Palestinians have been killed since the Israeli airstrikes against the besieged territory began on Wednesday.

Israelís Channel 2 says only 220 missiles, out of a total of 650, fired from Gaza have since Wednesday been intercepted by Israelís Iron Dome air defense system.



The Iran Project is not responsible for the content of quoted articles.